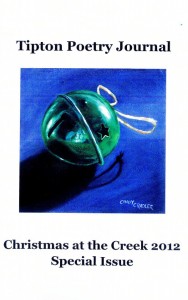 The first issue of the Tipton Poetry Journal consisted of poems written by poets who had attended the Tipton Poetry Reading, which met monthly from 2002 through 2005. The readings usually featured a prominent Indiana poet, always included an open mic format, and were attended by poets from the countryside and cities around Tipton, Indiana.
Although the monthly public format no longer exists, the Tipton Poetry Journal evolved from the energy of those public readings and is now a printed forum. The Tipton Poetry Journal, located in the heartland of the Midwest, publishes quality poetry from Indiana and around the world.
Tipton Poetry Journal is published by Brick Street Poetry Inc., a registered non-profit corporation in Indiana.  Brick Street Poetry Inc, a non-profit organization registered in the State of Indiana, is a tax-exempt non-profit organization under IRS Code 501(c)(3). Brick Street Poetry Inc. publishes the Tipton Poetry Journal, hosts a monthly poetry series, Poetry on Brick Street, and sponsors other poetry-related events.
TIPTON POETRY JOURNAL is published quarterly. Individual copies are $6.00. Subscriptions are $18 per year.
Tipton Poetry Journal has been selected to participate in the Council of Literary Magazines and Presses (CLMP) LitMag Adoption Program for Creative Writing Students. If you are a professor or instructor and want to incorporate Tipton Poetry Journal (or other featured journals) into your curriculum, you can register your class at http://www.clmp.org/adoption. If you are a student in a creative writing class, let your instructor know about the CLMP Lit Adoption Program.