This anthology submission period has ended but you can find the printed edition on Amazon.
It's Here!
"Haiku for Hikers" Anthology
Click on this link to read our online version:  https://issuu.com/tiptonpoetryjournal/docs/haiku_for_hikers  
Happy reading and be sure to vote for your favorite poem by following these instructions:
Instruction for voting for "Haiku for Hikers" Poems.
Readers can access the online version by clicking on "Anthology" at the top, far-right of this Brick Street Poetry webpage http://www.brickstreetpoetry.org/  Reading is enjoyable & free! If you're here you've already done that so proceed to the next paragraph.
Then vote for your favorite poem or poems by clicking the Pay Pal Donation Button (top, right side of the screen) to make a donation of a dollar or more and place the poem's number for which you are voting in the comment section. You may vote for as many poems as you want but need to describe the split of funds in the comment section or make a separate donation for each individually if voting for more than one. Donation amounts can only be split into whole dollars. If more than one # is listed without proper splitting instructions, all money will be credited to the 1st poem listed.
Look for the section we've underlined here that says "Add special instructions" in this example and place your number or numbers there: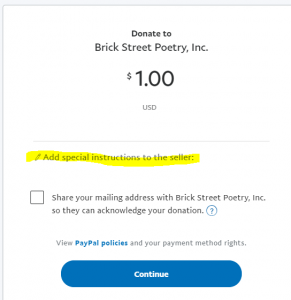 Poems receiving $10 in donations will be included in the printed version of the work, and the poet will receive 3 free copies of the printed version. The poem with the most public support will receive an honorarium equal to half of the donations received for that poem.
Your support will mean a lot to the poet for whose poem you vote and it will mean a lot to Brick Street Poetry too!  We thank you for reading the work of the poets included in our anthology and for your support of your favorite or favorites.